How Oysters Were Eaten Before Oyster Salsa,
Dump the cocktail sauce and open a bottle of Chesapeake Oyster Salsa! Made with fresh ingredients and spices, Oyster Salsa should be generously eaten with both cooked and raw oysters. Created on the shores of the Chesapeake for every table, dock, and cooler lucky enough to serve oysters. Oysters have finally found their perfect match!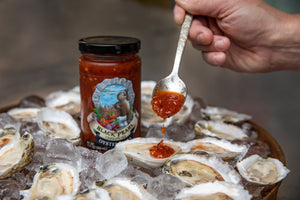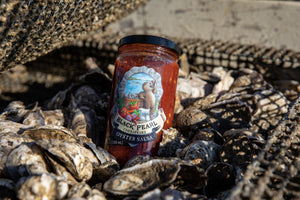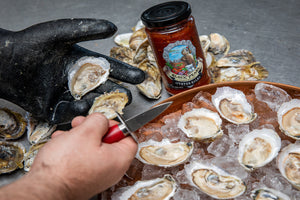 Made FOR Oysters, not WITH Oysters
Our salsa is the perfect addition to oysters, clams, mussels, and even shrimp! Many of our loyal customers also recommend eating it with your favorite bag of tortilla chips or adding it to your favorite recipe. The choice is yours, the possible combinations are endless.
Artwork by Michael Rosato
Bland and boring labels wouldn't suffice for a sauce as tasty, exciting, and revolutionary as Oyster Salsa. So when we decided to start Black Pearl Spice Co. we knew exactly where to turn for label artwork paired with unmatched creativity. Artist Michael Rosato calls the Eastern Shore of Maryland home but travels across the Country painting murals and custom pieces everywhere from the Smithsonian to the Bacardi headquarters in Puerto Rico and the Texas Rangers' ballpark. The Chesapeake Oyster Salsa logo hit close to the heart for Rosato and painting a scene he wakes up to every morning at home helped to create the perfect depiction of our otter surrounded by life on the Bay.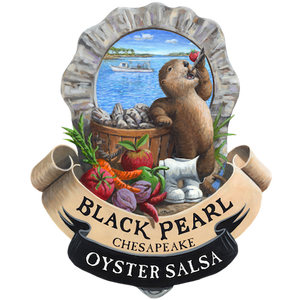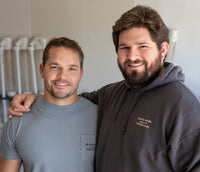 Our Story
A father and three sons sat on the engine box of a deadrise workboat moored at Gootee's Marina in Church Creek, Maryland. The boys were too small to wear shucking gloves, so dad shucked oysters one by one, and they disappeared faster than he worked. Blues music played, and salty air skated across the surface of the Chesapeake. This is how our oyster story begins...
Learn More